How To Keep From Running Out Of Money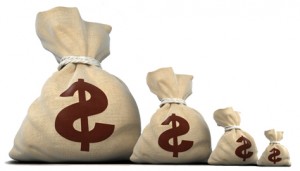 A recent survey by Allianz Life Insurance Company revealed that retired people worry more about running out of money than anything else. It is not really surprising, given the shrinking value of our retirement nest eggs.

I found an article that suggested several ways to help stretch a shrinking next egg. There were three ideas that actually made some sense, and several that made very little sense. I am sure that the financial planners who come up with these ideas are experts in their field. But sometimes, I get the feeling that they are a little out of touch with reality. It reminds me of the occasional ad we see on the internet that states "If you have a five hundred thousand dollar portfolio" (emphasis mine) we will show you how to make it grow. If I had half a million dollars, I would have no retirement worries.
Here are some ideas to stretch a nest egg that make sense to me:
1. Downsize: When people mention downsizing, we usually think about the place we live. Our home is usually our largest single investment and may be the largest single expense when you consider the cost of maintenance, heating and cooling. So it makes sense to move into a smaller house. After all, it may be cheaper to buy (or rent) and it is easier to heat and cool a small box than it is a large box.
But consider some other areas that may be downsized. Your car for instance. Could you use a smaller vehicle that get better fuel economy and requires less maintenance. If you are a two car family, do you really need two cars?  
Check your auto and home owners insurance policies.  Are you paying more for insurance than you need to?  If you have been with your insurance company for awhile, the only way you might get a break on the cost is to switch insurance companies.  Just sayin!!
How about your medications? There are organizations such as The Alliance for Safe Online Pharmacies and the Cenla Medication Access Program that may help with medication costs.
When you think about downsizing, consider all the things you spend money on, make a list and then decide where it makes sense to cut back.
2 If it is possible, cut off your adult children. As hard as it sometimes is to say "No", sometimes helping them out is not really helping them out when you assume responsibility for them. When you are gone, who is going to help them? Easy advice to give, but difficult to do!  I'm just sayin!
3. Find ways to supplement your income. If the nest egg is small to start with, this is the option that most of us will pursue after we reach retirement age. It is the one reason you see so many seniors working in fast food restaurants and stores. There are many part-time and full-time opportunities for seniors.  
There may be other suitable retirement jobs and work at home opportunities that should be explored when retirement work is necessary or desired. I did an article on the best ways for retirees to earn money.  Check out my earlier post on retirement jobs for some tips on supplementing your income.
Other possible options for extending the retirement nest egg include not collecting social security until you turn 70. Or if you have adequate equity in your home, consider a reverse mortgage to help supplement your retirement income.  Check out the list on the right and get a free copy of "How To Generate Quick Cash In An Emergency" for some tips that you might use.
If you do happen to have a portfolio worth half a million dollars, by all means, find a trusted financial planner to help you find ways to make it last longer. After all, running out of money before you run out of time could make life a little harder.